Old upright pianos in all conditions are available free for the asking. The pianos are free because I haven't had time to give them the attention they deserve. Some pianos are missing the ivory or plastic key tops, on some the veneer is peeling from the sides, some may have broken wooden parts inside, some look great but don't play well and others play great but don't look so good. Right now there are quite a few that look good, sound good and can play well with some repairs or adjustments. All these pianos are fixable. I put my time into pianos that people are interested in. Come see for yourself and choose whichever free piano you want.
I will include a free cleaning with every free piano that will be recycled and played.
Pianos are also available for rent, for trade, and for sale. They are located on Whidbey Island, in the greater Seattle area. You can move them yourself, or I will move them anywhere, for a fee. If you wish to move a piano yourself, I will help you load it onto your vehicle.
Why Free Pianos?
I haul pianos away for people who no longer want or play them. Some of these pianos are absolutely beautiful, play well and have great tone. However, I now have such a large collection of pianos that I am out of storage room. This means that many of these pianos must be stored in a metal shed, and those that don't fit there are stored in tents. Some are so bad that they are left outside and need to be dismantled. I don't want these good pianos to fall apart, so I would like to find homes for them. Currently I have a number of excellent instruments that I have just received and that are available. Only nine are for sale; the rest are free.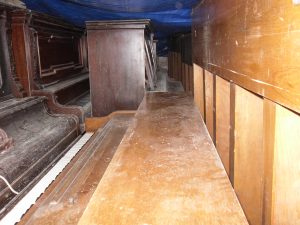 A piano in a tent will not last through the winter. This is what happens when a piano is left out in the weather.
What happens first is that the moisture will cause all the ivories to come unglued.
Then the glue for the veneer on the sides and top starts to fail and the veneer separates.
Soon the lid, the music board and the knee board will start to warp and curl.
The action parts, bushings and felts start to swell up and stick.
The dampers become hard and crusty, and the hammers pop open.
All the metal parts start rusting.
If left completely out in the weather, a piano will mold, delaminate, rot, rust and fall apart.
Free Piano Parts for Art
If you know any artists, or art classes looking for unique projects, I am giving away all kinds of unusual piano parts. Some of the pianos I dismantle may not be tunable, but the parts on them are still in good condition. Pianos are made of wood, metal and felt. Here are some ideas of things to do with piano parts:
Art
Paper Weights
Wall Hangings
Knick-Knacks
Sculptures
Mobiles
Furniture
Desks
Cabinets
Bed Posts
Coffee Tables
Book Shelves
Picture Frames
Shelving Boards
Window & Door Trim
Utility
Pin Rail For Hanging Keys
Jewelry Hangers
Coat Racks
Bench Supports
Pencil/Drill Bit Holders
Jig Material
Fencing
Wainscoting
Listen to this brief podcast interview with Dean: http://www.kuow.org/program.php?id=26063
This offer applies only for the Greater Seattle area. There are over 100 pianos available at Petrich's Piano Shop in Freeland, WA, on Whidbey Island. Contact Dean to set an appointment and for directions.
Watch this TV news story on Dean's pianos: http://komonews.com/news/erics-heroes