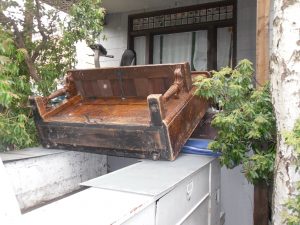 Piano hauling, piano removal, piano recycling: Old pianos hauled away.
Moving? Out of time?
Don't know what to do with your old piano?
Do you need some extra space and don't need a piano that no one plays?
You have come to the right place. I haul away old pianos.
How: You help me balance it as I put it on my truck, and it will be gone. (If you are not able to help me, I have helpers I can hire for $30/hour.)
Where: Greater Seattle area: most of King County, and all of Whidbey Island
How Much:
Whidbey Island: – For up to 3 steps I charge $200 flat rate (plus tax) to take away your old upright piano, and $300 for a grand piano.
Greater Seattle Area: – For up to 3 steps I charge $250 flat rate (plus tax) to take away your old upright piano, and $350 for a grand piano.
Outside Seattle (south of Renton, east of Sammamish, north of Everett): – The base rate to haul an upright outside of greater Seattle is $300, and $400 for a grand.
Additional charges:
For more than three steps, add $50 to the base price.
For more than ten steps, add $100.
For unusual terrain, such as hills, rough terrain, tilted slopes, tedious obstacles or severely inclement weather, add another $50.
For long distances, call to discuss options.
When my capacity is at its limit, my prices go up or you may have to wait until I have space. My indoor storage capacity is currently near its maximum limit; if no pianos leave, any additional pianos will be stored in tents, which is not good for the pianos especially during the rainy season.
When: Generally I move pianos on Tuesdays, Wednesdays, Thursdays, and occasionally weekends. Call ahead to schedule.
Where do These Pianos Go: I am a piano recycler. I can't stand seeing pianos being thrown in the dump. I would rather have them remain functional in the world and to be used in some form.
If it plays, it might be rented or sold at a low price, or even given to a starving musician for free. I donate and give away most of these pianos.
If it needs work, one of four things will happen to it. Ideally it will be:
Restored and recycled into the world as a playing instrument
Given away for free as is
Dismantled and salvaged for parts
Converted into an art piece
Regardless of its fate, I will guarantee that your piano will not end up in a land fill.
(I do not do what happens in this NY Times article: For More Pianos, Last Note Is Thud in the Dump – NYTimes.com ARTS | December 31, 1969 Video Library Player: A Requiem for Pianos O'Mara Meehan Piano Movers has been the business since 1874. The vice president, Brian O'Mara, laments the fact he has to dispose of five to ten pianos a month.)
Watch this video of what Dean does with pianos instead of dumping them:
http://komonews.com/news/erics-heroes/erics-heroes-the-piano-man-who-puts-music-in-the-northwest