Careful, safe, efficient piano moving
Do you need to move a piano? You have come to the right place. If you are in the greater Seattle area, call me and I will move your piano, or I will recommend another experienced piano mover. Read the page "The Right Way to Move a Piano."
If you want to move it yourself, I strongly suggest that you read my e-book first. There is a right way and a wrong way to move a piano. Get smart first so you don't wreck the piano, the floor, and yourself. Before thinking you will save a lot of money by doing it all yourself, take a look at the videos on the page "The Wrong Way To Move a Piano," and then download my e-book "How To Move a Piano By Yourself with the Wrong Equipment"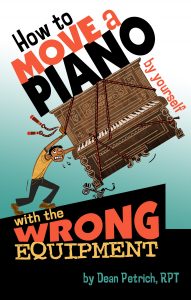 Moving Upright Pianos
My specialty is moving large and small upright pianos. I tip the piano onto its back on an open flat-bed truck and cover it with blankets and tarps during travel.
Moving Grand Pianos
While I can move a grand piano on my flatbed, for ultra-fine grand pianos I rent a U-Haul and strap the piano to the inner wall. Grand piano moves take more time and cost more to move than upright pianos because the legs and pedals must be removed and replaced, and the piano must be wrapped and strapped on a skid board.
Hauling Away Pianos
If you have a piano that you no longer want or know of someone who must get rid of a piano, call me: (206) 324-5055.
Before Covid, I would pick up and take away any piano, sight-unseen. I would then repair, restore, alter, or salvage those pianos and then donate them for free to worthy causes and deserving individuals. Now I am shipping all unwanted pianos to Lima, Peru, for new owners to enjoy them.